Portugal is a small country with a vast coastline, but there is much more to do than go to the beach. Family is a crucial aspect of life in Portugal, so you will be amazed by the number of services you can find for you and your crew.
Organizing the best family holidays to Portugal takes time, but we hope this helps you start marking that checklist of things to do with your family!
Season
Traveling with your kids or even having a multigenerational trip takes time to plan, and you require that everything runs smoothly! The first thing to plan is in which season you prefer to visit or have availability.
Portuguese Summers are warm, and Winters are mild, with possibly rainy days. Spring and Autumn are great times to visit. You can read here all the information about the weather in Portugal(opens in a new tab).
If you have a chance, travel off-season: you will find better deals, and it will be quieter.
If you cannot travel off-season, ensure you book your hotels and accommodations beforehand to get the best rates. Algarve, Lisbon, and Porto tend to be fully-booked during the summer months, and the few available places can have skyrocket prices.
Where to go
The Algarve is the most common destination for families because there are many resorts, golf courts, and beaches, but Portugal has much more to offer to families besides the Algarve.
First, you must remember that Portugal also has two beautiful Islands (Madeira and Azores) with plenty of activities for you and your family, like whale watching and canoeing. But if you prefer mainland Portugal, know that the beach is excellent for a few days, but you do not want to miss out on other things.
Most of the hotels or apartments accommodate babies, infants, and toddlers, with strollers available to rent/take and plenty of activities to keep your little ones entertained, especially if you stay outside the main areas.
Your location of choice will depend on what type of vacation you want to experience. If you wish to relax with few activities, then the Algarve and Alentejo are perfect for that. However, if you want your kids to learn, explore, and see more of the country and taste different foods, you can venture into Lisbon, Porto, or the country's center.
TIP: Due to being nightlife areas, please do your research when looking at accommodation in these areas for your family: Bairro Alto (Lisbon), Ribeira (Porto), The Strip (Albufeira), Praia da Rocha. It can be fun on the first nights, but the nightlife in Portugal can be quite long.
Getting around
Public transportation is very reliable in Portugal and, in most places, children up to 4 years old travel free. Until 12 years old, children pay 50% of the ticket price.
If you opt to rent a vehicle, make sure you request a baby car seat or a booster seat, as this is mandatory in Portugal for children up to 12 years old.
We encourage using a car to get you to point A to B, as driving in the cities can be challenging if you are not used to uphill/downhill narrow cobblestone lanes. A car helps if you visit for long periods and plan to tour different regions besides the main cities closer to the airports.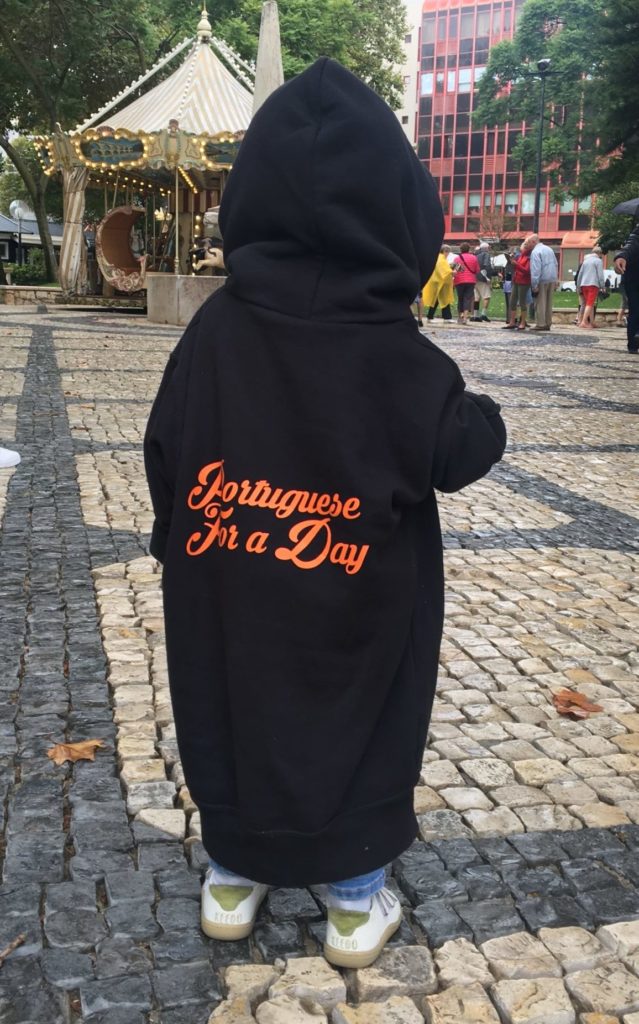 Choosing your accommodation
You will notice that hotels and apartments have plenty of advantages to accommodate your children or teens.
We recommend that you check the prices for children and ensure that they provide an extra bed, as sometimes that information does not go through if you book on a third-party website.
We also suggest that you book directly with the accommodation and write beforehand how many people will be in the room. Some places do not charge a fee for children up to a specific age; however, you should inform for legal and insurance aspects and make sure you have a proper bed for your little one.
When arranging accommodation for your family vacation in Portugal, we recommend that you chose either an apartment – where you can cook some meals – or a family-focused hotel. This way, you will guarantee a baby-sitting service and extra activities for your children.
In no particular order, here are some of our recommendations:
The Martinhal group focus on making your family vacation better. Their hotels' design is with the little ones in mind: baby concierge, kids club, activities.
The villas (houses) are fully-equipped and with a terrace for some playtime. It is only 2km from the beach, a great location to relax and take surf lessons. The hosts are locals who love the area and know all the best places to spend family time outside the houses.
The family house of the founder of Confeitaria Nacional (the oldest pastry shop in Lisbon) is a cozy hotel with warm decoration and a pool. Fresh baked goods arrive from the pastry shop for breakfast every morning.
Right in the center of downtown Lisbon you will find these newly refurbished apartments. The location is unbeatable.
Roughly one hour driving from Lisbon is this family-owned property where everyone can be a kid again. Each room tells a story, and there is plenty of activities for the family.
Family holidays made easy at the Cascade Wellness Hotel. With a kids club, private pools, a football arena, and plenty of activities for your kids, you can relax in the spa while they are having fun.
Imagine Willy Wonka's chambers! The hotel was once a chocolate factory and is now a chocolate-themed hotel, but don't worry: no Oompa Loompa is allowed.
After a day of exploring Porto and treasure hunting (wine) on a wine estate, your family deserves a well-deserved rest. Spot has spacious apartments to accommodate your family with amenities to make your stay relaxed.
Eating out
When eating out, you do not need to worry about anything!
All restaurants will provide a child seat and you can either ask to heat pre-cooked food that you bring with you, or you can request to cook something simple for your children.
TIP: You will notice that Portuguese tend to eat later in the day. Don't be surprised if you see children up late.
Things to do
Portugal is a truly family-friendly country, and children are welcome everywhere.
Lisbon has a wide variety of parks, museums, exhibitions, and shows for families. Porto is great for an exploration morning in a vineyard, and Coimbra has a tiny Portugal version.
Many museums and sights in Portugal offer free entrance for kids under 12 years old or special family tickets.
Here we have a list of 14 things to do in Portugal with kids(opens in a new tab).
TIP: Skip the lines with children up to 2 years old. Skip the lines in some attractions with children older than 2 years old.
Health and safety
Portugal is a very safe country and tourism represents a big part of the economy so no efforts are spared to make things running smoothly and safely.
You can go to any hospital or medical center and no treatment will be denied.
Pharmacists are extremely knowledgeable, so consider going to a pharmacy before going to a doctor.
The Portuguese emergency number is 112.
Conclusion
A small country where you can visit so much during your vacation, with beautiful beaches, warm locals, great food, and a safe and fun environment, Portugal is a great place to spend your family holidays.
Portugal is such a family-friendly country that it only makes sense to come here if you are all together.
We can help you organize your family vacation in Portugal. Let's talk!